Water taxi launches on Bridgewater Canal in Manchester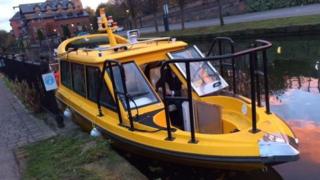 A water taxi has started running a trial service on the Bridgewater Canal to take commuters into Manchester.
It will connect Sale with Manchester City Centre and will also take passengers from Castlefield to the Trafford Centre during rush hour.
The "waxi" is the first water taxi service in Greater Manchester and can carry up to 10 passengers.
The 4mph (6km/h) journey is free during the trial period ahead of a full launch on 21 November.
Two boats will operate morning and evening on Mondays to Fridays between Sale and Castlefield, and a circular route which runs from Castlefield to Old Trafford and the Trafford Centre.