Westhoughton man shot in head after answering knock at door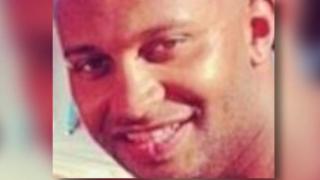 A man has been shot in the back of the head and left to die in an alley after answering a knock at his front door.
Michael James Blake died in hospital after neighbours found him near his Manchester Road home in Westhoughton, Bolton at about 23:10 GMT on Thursday.
Greater Manchester Police Det Supt Jon Chadwick said he had opened his door 15 minutes earlier and left "willingly" with a man in a light-coloured van.
He said there appeared to be "no motive" for the 28-year-old's killing.
Officers were not sure of the location of Mr Blake's shooting, he said, adding: "It is possible that he was shot in that ginnel, but nobody heard gunshots."
He said he believed those responsible had meant to kill Mr Blake, as "if you're going to [shoot someone in the head], you're not trying to warn them, you know they are going to die".
He added that Mr Blake was known to police, but "not recently, and certainly not for any major crime".