Darren McMinn death: Man jailed for life over reservoir body murder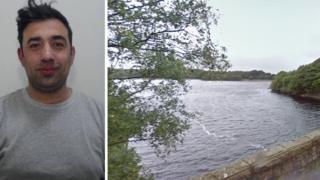 A murderer who dumped his victim's body in a reservoir in a bid to hide the crime has been jailed for life.
Darren McMinn, 48, was last seen in Halliwell, Bolton, on 11 April and was reported missing four days later.
Candido Pereira, 37, of Chorley New Road, Bolton, had stabbed and strangled him to death following a fight, Greater Manchester Police said.
Pereira was told he must serve a minimum term of 24 years following a trial at Manchester Crown Court.
Nicholas Hindle, 24, of Crosby Road, Bolton, was jailed for four years for assisting an offender.
On the night he went missing, Mr McMinn had visited Pereira when the fight broke out, police said.
Pereira later wrapped the body in plastic bags and, joined by Hindle, carried it out to his car before they drove to Yarrow reservoir.
The 37-year-old was arrested and, following three days of questioning, admitted being present when Mr McMinn died.
He then directed officers to Alance Bridge on Hodge Brow, over the Yarrow reservoir, in Rivington, Lancashire, where officers recovered the body.
It had been wrapped in plastic, tied with string and heavily weighted down.
Speaking after sentencing, Det Ch Insp Sarah Jones said Pereira had "brutally murdered" Mr McMinn and "attempted to cover up his crimes... with no thought for a family desperate to know what had happened to their loved one".