Stockport luxury homes building site destroyed by fire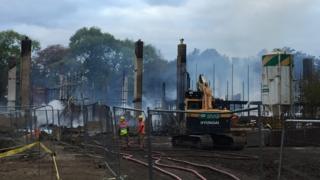 An entire building site of 11 under-construction luxury homes in Stockport has been destroyed by a fire.
The blaze broke out at about 06:54 BST in Oakwood Road, Romiley, Greater Manchester Fire & Rescue Service said.
It was well developed when fire crews arrived and eleven timber-framed properties were completely gutted.
Fire crews in six engines used water from a nearby canal to bring the flames under control by 09:15. Nobody was hurt.
The properties were part of a courtyard development next to Oakwood Hall, which is also being developed into luxury apartments and was not involved in the fire.
The three and four bed homes are described on the developer's website as "special and unique" and "for those who require the best in modern living".
The scheme was granted planning permission in 2014.