Luke Rhoden restraint death: Ibiza police used 'excessive force'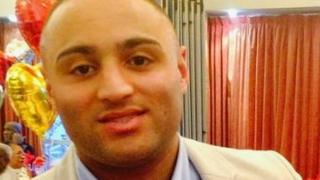 "Excessive force" was used on a British man who died after being restrained by police officers, a jury has concluded.
Luke Rhoden was in Ibiza for a friend's stag party when he became agitated after taking drugs.
The inquest in Bolton heard Mr Rhoden, of Wigan, Greater Manchester, passed out as three police officers restrained him and died, in September 2014.
A doctor, called to the scene, earlier told the court he warned one officer the 25-year-old "was going to die".
Dr Santiago Akoskin was called to the Ibiza Rocks Hotel in San Antonio to help the former rugby player.
When he arrived, he said an officer was pressing a baton against Mr Rhoden's neck and refused to stop even when the doctor said "you're killing him".
The inquest heard Spanish authorities recorded Mr Rhoden's death as violent accidental death and said there was no evidence to suggest any criminal behaviour by those who dealt with him.
But, the jury concluded police had used excessive force and had asphyxiated him.
It also concluded Mr Rhoden had an adverse reaction to cocaine and ecstasy, which he had taken that night.
Mr Rhoden played for Wigan Warriors academy in 2007 and 2008 before playing semi-professionally at Oldham Roughyeds.
His father Norman said he would have preferred the jury to have been allowed to consider a conclusion of unlawful killing.
But coroner Kevin McLaughlin ruled that out saying there was insufficient evidence.
Mr Rhoden said he was pleased though the jury had "at least agreed" the Spanish police played a part in his son's death.
He said his legal team would see what further action they could take.