Luke Rhoden death: Doctor warned police 'restraint could kill'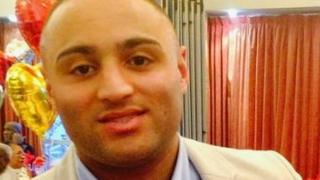 A doctor warned police they could kill a British holidaymaker who died after being restrained, an inquest has heard.
Luke Rhoden was in Ibiza in September 2014 for a friend's stag party when he was held down by three officers.
The hearing was told he became agitated after taking drugs and police were called. He passed out while they were restraining him and died.
Dr Santiago Akoskin said he told officers they were "asphyxiating him", adding: "He is going to die."
The Spanish doctor had been called out to the Ibiza Rocks Hotel in San Antonio to help Mr Rhoden and said he found the 25-year-old being held down by the officers.
He said one of the officers had a baton across the front of Mr Rhoden's neck and was pressing down on it.
'Very angry'
Dr Akoskin said he told the officer to stop, saying: "I said to the police you are asphyxiating him. He is going to die."
The police officer replied that he knew what he was doing, the jury was told.
The doctor said he tried three times to make the officer stop but was unsuccessful.
Mr Rhoden, from Wigan, then became unconscious and Dr Akoskin said by the time an ambulance arrived, there was little hope for him.
He told the inquest in Bolton he was "very angry" he died because he had treated many patients who were in a far worse state through using drugs, and they had survived.
The jury was also shown video clips of the incident taken by other holidaymakers.
Det Insp Matthew Moore, of Greater Manchester Police, said it appeared from the footage that an officer was using his baton to press down on Mr Rhoden's neck, head or chest.
He said this was not a restraint method used by police in the UK.
The inquest continues.