Metrolink services hit by severe delays after points failure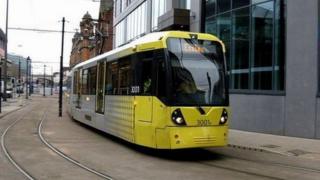 Services across Greater Manchester's Metrolink network have been hit by delays following a points failure, which led to one line being suspended.
Widespread disruption began at 09:30 BST after the problem at Cornbrook, a Transport for Greater Manchester (TfGM) spokesman said.
Trams on the Eccles line were suspended for about 20 minutes, with others subject to severe delays.
TfGM's Metrolink director Peter Cushing apologised to passengers.
"We are doing everything we can to keep the system running, including manually operating points to get trams through the Cornbrook junction," he said.
Delays continued into the afternoon, with additional bus services deployed across some routes.
Latest service updates are available from the Metrolink website.