Skyscraper approved at former Granada studios site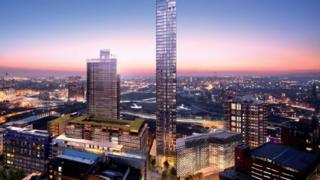 Plans to build a 51-storey skyscraper at the former Granada studios site in Manchester city centre have been approved.
The hotel and apartment block off Water Street is part of the St John's Quarter scheme which also includes offices.
At 168.4m (552.5ft), the structure is shorter than Beetham Tower in Deansgate which stands at 169m (554.5ft) tall.
The site, where Coronation Street was filmed, closed in 2013 and moved to MediaCityUK in Salford.
The Coronation Street set hosted visitor tours from April 2014 until the site was returned to developers Allied London earlier this year.
The St John's Quarter development includes almost 400 apartments in four buildings, shops and a restaurant.
A £110m theatre and arts venue at the site was approved last year.
Plans to build the tallest skyscraper in Manchester were approved in July.