Manchester Airport runway closed as BA plane develops fault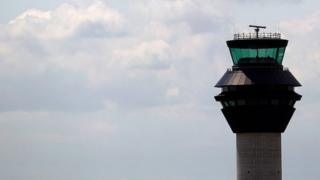 One of Manchester Airport's runways has closed after a British Airways plane developed a technical fault on landing.
BA said the aircraft, which departed London Heathrow at 08:26 BST, had developed a fault in its nose wheel after touching down at 09:00.
The plane had 124 people on board and all 117 passengers disembarked using the "usual steps" before being "bussed to the terminal", the airport said.
Manchester Airport said operations had been switched to its other runway.
This is "normal procedure" the spokesman added, adding that the airport remains "fully operational".
The 16-year-old Airbus A319-131 aircraft, which bears the registration G-EUPM, had two pilots and five cabin crew on board, in addition to the 117 passengers.
A BA spokesman said: "We are giving our full support to the Air Accidents Investigation Branch investigation into the incident, so we cannot speculate as to what caused the issue with the aircraft's nose wheel."