Knowl View sex abuse case against David Higgins dropped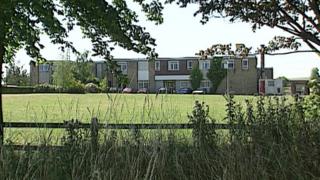 A case against a former teacher accused of child sex abuse at a boys school has been dropped.
David Higgins, 76, had been accused of committing 19 alleged offences relating to two pupils at Knowl View residential school between 1969 and 1970.
The Crown Prosecution Service (CPS) said no further action would be taken after receiving more information.
Greater Manchester Police paid tribute to the complainants. PCC Tony Lloyd said the news was a "bitter pill".
A CPS statement said all cases were subject to review and one was conducted in September following new information. The alleged victims were informed of the decision on Tuesday.
"As a result it was decided the evidential stage of the test was no longer met. This decision to offer no evidence was taken after discussions with Greater Manchester Police," it added.
'Long, emotional journey'
Assistant Chief Constable Debbie Ford said the force had conducted an "extensive and thorough" investigation, into which a "significant amount of resources were invested".
"We recognise this will be a disappointing outcome for victims and we will continue to offer them support at what is understandably, a very difficult time.
"They have shown tremendous courage by coming forward and embarking on what has been a long and emotional journey."
Knowl View was a council-run residential school for boys from dysfunctional backgrounds which closed in 1992.
The CPS recently said no action will be taken into claims that former MP Cyril Smith, who was a governor, abused boys there.
'Shameful'
Mr Lloyd said allegations of abuse at the school "cast a long shadow across Greater Manchester."
"I share the view of the victims of the horrific abuse at Knowl View that the lack of prosecutions after such a long period of time is a bitter pill.
"It is an indictment of how, in the past, public bodies and society as a whole treated the most vulnerable of children. It is shameful."
Greater Manchester Police said it had completed a report into how the force allegedly handled and covered up claims of child sex abuse at Knowl View.
The report, which is part of the Operation Clifton inquiry, is expected to be reviewed next year.
Higgins is currently serving a 14 year sentence for serious sexual offences after he was convicted at Leeds Crown Court in 2014.