'Shameless swindlers conned' 80-year-old in lottery scam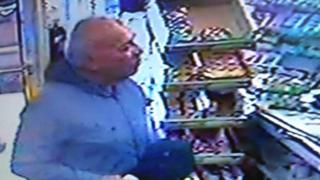 Images of two men suspected of "swindling" £10,000 from an 80-year-old Manchester man by using a fake lottery ticket have been released by police.
Approaching their victim on Moss Lane East, Moss Side on 15 June, one of them said he could not claim his £500,000 win as he did not have a bank account.
He told the victim he would share his winnings if he gave them £10,000.
The man agreed to their request before collecting the money from a bank and his home. The suspects then drove away.
'Shameless'
They made their getaway, Greater Manchester Police said, after persuading their victim into going into a chemist's shop for them.
The suspects told him that because they were aged under 50, they were not allowed to collect some medication.
As "security", the victim took £5 and the "winning" lottery ticket from the suspects.
When the 80-year-old emerged from the shop, the men - and the £10,000 - had vanished, police said.
When he later tried to claim on the lottery ticket, he found out it was fake.
Det Con Lucia Barnes said: "This was a shameless swindling of a vulnerable 80-year-old man who is still very distressed and suffers flashbacks of this incident."