Drunk father and son held after missing Monarch flight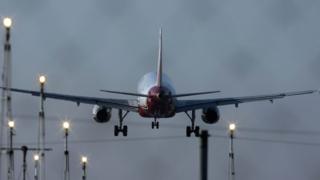 A father and son who spent "too much time in the bar" were refused on a flight to Turkey - despite the rest of their family being onboard.
The men were told they could not board the Monarch flight to Dalaman at 07:00 BST after arriving at the gate late.
The pair "talked themselves into being arrested" for being drunk and disorderly, Greater Manchester Police (GMP) said.
The rest of the family continued with their flight from Manchester Airport.
In a Facebook post, GMP said the pair, aged 60 and 27, had "let the drink get the better of them".
"The flight wasn't delayed as they didn't get there on time," the force said.
"However, the other members of the party did and should be shortly landing in Turkey to enjoy their holiday."