Greater Manchester Metrolink tram map reveals life expectancy levels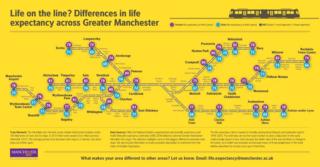 Academics have created a map of Greater Manchester's tram network that reveals the striking differences in the population's life expectancy.
It reflects how life expectancy varies from place to place across the region.
Researchers at the University of Manchester said the map illustrates strong links between economic deprivation and shorter lifespan.
The research, using Office for National Statistics data, focussed on factors such as income, health and diet.
People in Greater Manchester have an average life expectancy at birth of 75 years, compared to 83 years in East Dorset, the area with the highest life expectancy in the UK, according to the ONS.
But the map shows how levels are significantly different depending on the location within the region, with higher rates among people living in more affluent areas.
Life expectancy levels across Greater Manchester
Highest
Whitefield: Female 82, Male 78
Milnrow: Female 82, Male 75
Lowest
Clayton Hall: Female 73, Male 67
Rochdale: Female 74, Male 66
Langworthy and Anchorage: Female 74, Male 69
For example, while a tram from Timperley to central Manchester can take just 30 minutes, the estimated difference in life expectancy between the areas is more than 10 years.
Dr Kingsley Purdam, of the university's Institute for Collaborative Research on Ageing, said the data highlights "the underlying inequalities in life expectancy".
"A range of often interrelated factors are linked to lower life expectancy such as low income, employment status, the local environment, access to health care, smoking and alcohol consumption, diet, exercise, social status and social isolation.
"Whilst people are living longer, the gap between certain populations is growing.
"We hope this map can highlight the issue to the public and health professionals. The inequalities are a real challenge."