Greater Manchester Police targets women in anti-gun campaign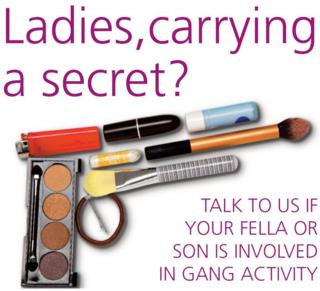 Girlfriends, sisters and mothers of those involved in gun crime are being urged to come forward by Greater Manchester Police (GMP).
The Girls Against Guns campaign is appealing to women not to risk becoming accessories to gun or gang crime.
As part of GMP's initiative, anybody with information about shootings can call a dedicated phone number.
The poster campaign features make-up accessories in the shape of a gun and asks "Ladies, carrying a secret?"
'Do the right thing'
It also says: "Talk to us if your fella or son is involved in gang activity. Don't become an accessory to their crime."
GMP said gun crime has fallen by a quarter during the last year, something it attributes to working alongside local communities and partner organisations.
It was one of four police forces to stage a firearms amnesty in April after a spate of shootings in Salford following the murder of the city's "Mr Big" Paul Massey in July 2015.
More than 220 weapons were handed in across Greater Manchester during the two-week amnesty.
Assistant Chief Constable Debbie Ford said: "If you know somebody who carries a gun, please do the right thing and tell us about it.
"By not saying anything to anyone, you're not stopping it from being used and the last thing we want is to be knocking on your door to tell you that your loved one has been killed in a shooting."