Greater Manchester NHS hospitals collectively £78m in debt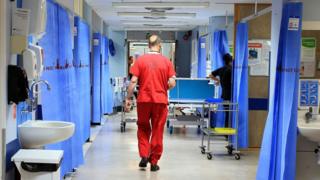 The financial health of NHS hospitals in Greater Manchester has deteriorated sharply, according to BBC research.
While in 2014-15 they enjoyed a £74m surplus, by the end of 2015-16, they were collectively £78m in the red.
Experts blame rising care demands and increased staffing levels introduced since a 2013 inquiry criticised patient care at Stafford Hospital.
The Department of Health said it was investing an extra £10bn per year in the NHS in England by 2020.
Professor Ruth Boaden, of Alliance Manchester Business School, said: "It is known that in Greater Manchester there are too many hospitals, there are too many sites and they can't all deliver a 24/7 service across the whole spectrum.
"There should clearly be some services in north Manchester without a doubt, but whether it needs full 24/7 A&E for even the most seriously ill patients is a different question."
'Balancing the books'
Her colleague, Professor Naomi Chambers, said there was a "challenge around balancing the books and ensuring safe care".
She explained: "The solution is to have an honest conversation with the public about whether we want to increase the level of funding to the NHS to the average in Europe."
About 10% of the UK's Gross Domestic Product (GDP) is currently spent on healthcare - compared to 11% and 17% in Germany and the United States respectively.
Prof Chambers says there isevidence of "an appetite to increase levels of tax" provided the money raised goes on the NHS.
A Department of Health spokesman said: "Healthcare spending as a proportion of GDP is now above the OECD average and the NHS has a strong plan to balance the books, which we're supporting by helping hospitals to become more efficient, improve productivity and reduce the use of expensive agency staff."
But Shadow Health Minister Justin Madders said: "Six years of underfunding the NHS and slashing social care budgets has pushed the health service to the brink of a full-scale crisis and the Tories remain in a state of complete denial."
---
Analysis: Richard Stead, BBC News
In the next few years, NHS Trusts will need to ask if we can afford - and is it safe - for local hospitals to do everything?
In many cases, the answer to that question will be No.
That will mean things like fewer, more specialised units for A&E, stroke, and orthopaedic patients.
The closure of local units may be unpopular - but the health service has made significant savings before.
Back in the 1950s, budgets were under similar pressure. That led to charges being introduced for spectacles, dental care and prescriptions.
What all this boils down to is the fundamental question of whether we - as a country - spend enough on health.
Should we raise taxes and cut spending elsewhere, or introduce charges for more services?
These are the dilemmas facing our politicians.
---