U-turn over Greater Manchester firefighter sacking plan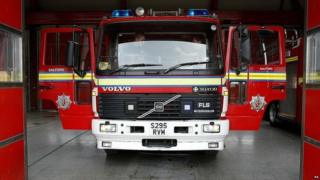 Proposals to sack every firefighter in Greater Manchester and only reinstate those agreeing to a new rota have been dropped by fire service bosses.
Greater Manchester Fire and Rescue Service (GMFRS) faces £14m of cuts and said changing shifts patterns was the only way to save £10m.
The Fire Brigades Union (FBU) had said plans to fire 1017 staff were "appalling" and welcomed the U-turn.
GMFRS said it would "facilitate talks" with the FBU and an independent panel.
More than 20,000 people have signed a petition against the plans.
'Constructive talks'
Chairman of Greater Manchester Fire and Rescue Authority David Acton said withdrawing the plans was "a welcome move" which would allow both parties to talk "without the threat of action by either party".
FBU general secretary Matt Wrack said "both parties would be engaging constructively in discussions to ensure the safety of the public".
Talks will be conducted through the independent Technical Advisory Panel and will take place on 29 September.
In June, GMFRS approved 250 firefighter job cuts in an effort to make savings.