Two women and a man sought over Manchester robbery and rape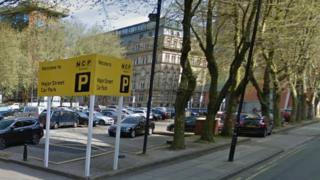 An 18-year-old woman has been raped and robbed in Manchester city centre.
A woman and a man held her down while another woman stole from her, then the man raped her and the three offenders ran off, police said.
The assault happened on Major Street at about 02:50 BST on Wednesday.
Detectives are appealing for information about the three people involved in the "horrendous attack" which left the woman "extremely distressed".
The man is described as white, in his early 20s, slim, with a clean-shaven face. He was wearing sports clothing.
The first woman, who assisted in restraining the victim, is described as about 18-years-old, mixed race and scrawny, with her hair tied up in a ponytail.
The second woman, who carried out the robbery is described as mixed race, in her early 20s and also had her hair in a ponytail.
Both the women spoke with local accents.