Woman, 73, attacked in Rochdale 'urinating' row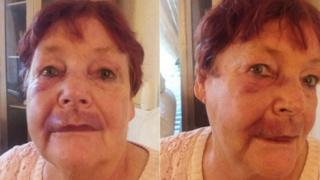 A 73-year-old woman has been injured in a "sickening and unprovoked" attack after asking a man to stop urinating against her home.
Kathleen Maccuish had returned from walking her dog when she was thrown to the ground and punched in the face in Roylelands, Rochdale.
She suffered bruising around her eyes, nose and mouth in the assault at about 20:15 BST on 10 September.
The attacker was white, in his early 30s, slim with short dark hair.
Greater Manchester Police revealed details of the attack as they search for the suspect.
PC Michelle Farmer said: "This was a sickening and unprovoked attack on an elderly woman that has left her shaken and anxious about going out.
"It is fortunate that she was not seriously injured."