Gracie Fields: Rochdale statue tribute unveiled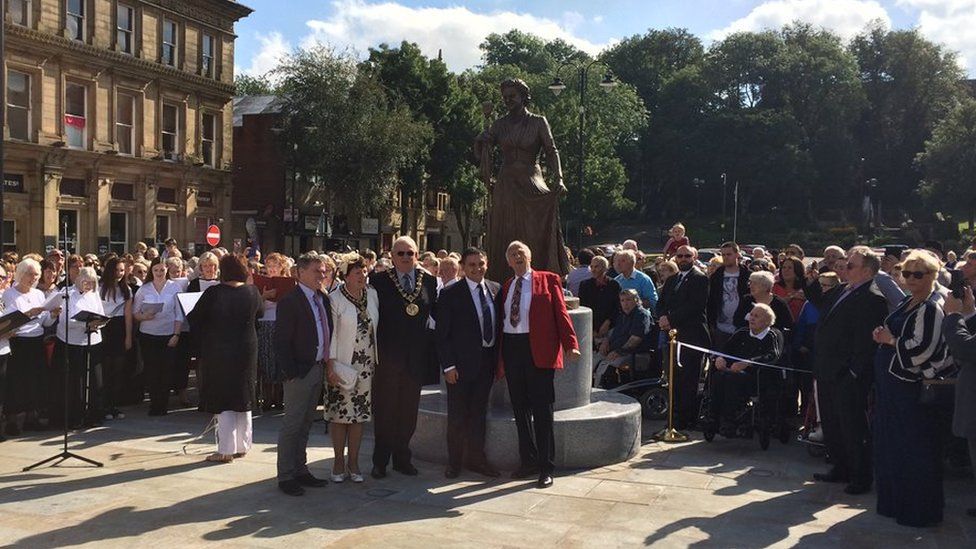 A statue of the actress Dame Gracie Fields has been unveiled in her home town of Rochdale.
A life-sized sculpture of the singer and entertainer was revealed in Town Hall Square before a large crowd.
It marks the end of a series of tributes to the star, including a heritage trail featuring blue plaques marking key locations in her life.
Fields was believed to be the most highly paid actress in the world in the 1930s.
Sebastian Lassandro, who runs the Gracie Fields Appreciation Society's website, said: "It's finally time for Rochdale to have its own tribute to Gracie Fields. It's long overdue."
Born in 1898, she made her first stage appearance in 1905 and went on to become a popular star of London's West End.
Her travelling performances for troops during World War Two led her to become known as "a forces' sweetheart", a title more commonly associated with Dame Vera Lynn.
She eventually retired to Capri in Italy, but never forgot her Rochdale roots and made frequent trips home to perform.
Fields was made a dame in 1979 a few months before her death aged 81.
Related Internet Links
The BBC is not responsible for the content of external sites.