Manchester United players grant dying fan's final wish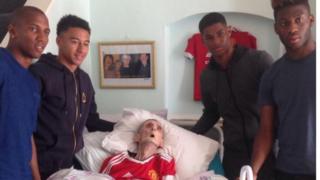 A football fan's final wish came true when four Manchester United stars paid him a visit an hour before he died.
Patrick Lawler, 73, wanted to meet the players before his death so his family launched an appeal on social media.
Granddaughter Kayleigh Lawler Carson posted on Sunday: "I want to get this as a surprise, he's a MASSIVE fan".
Marcus Rashford, Jesse Lingard, Ashley Young and Timothy Fosu-Mensah then turned up at Mr Lawler's home in Wythenshawe before he died on Tuesday.
The initial Facebook plea was shared 1,015 times before the players visited him after training. They posed for photographs and signed autographs while they were there.
Mr Lawler, who had cancer, died 45 minutes later.
Ms Lawler Carson posted: "Please can everyone share I'm trying to get a few of Manchester United players to come and visit my granddad, we asked him the other day if he would like to do anything before his time comes and he said to meet the team.
"And not sure how long we have left with him so I want to get this as a surprise, he's a MASSIVE fan, even tried his hardest to keep his eyes open yesterday to watch the match [Man Utd v Man City derby] but sadly he missed it!
"I know he will be so gutted that he didn't watch it. I'm sure he will be a very happy man if I can get his last wish Thankyou to u all Xxx."