RSPCA called to toy crocodile rescue in Winsford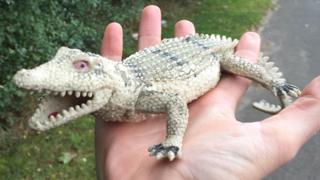 An RSPCA officer was called out to help a baby reptile by the side of a road, only to discover it was a toy crocodile.
Lauren Bradshaw approached with caution as she spotted something "basking in the sun" in Winsford, Cheshire.
But after she picked it up, she soon realised it was "a plastic one made in China" and her snappy arrival had been in vain.
She said: "I reached out to pick it up and just burst out laughing."
Talking about the discovery on Friday, she said: "As I approached, it looked very pale in colour and I thought it must be some kind of lizard - but then as I got nearer, it became clear it was a crocodile.
"One thing is for sure - a day in the life as an RSPCA officer is never dull!"