Jalal Uddin: Imam murder accused denies IS salute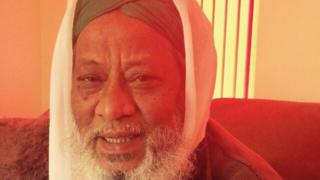 A man accused of murdering an imam has denied he made a salute associated with the Islamic State group.
Mohammed Hussain Syeedy, 21, who denies the murder of Jalal Uddin in Rochdale, said his gesture was an Islamic symbol.
Mr Syeedy, of Ramsay Street, Rochdale, denies being the getaway driver for Mohammed Kadir, 24, who is alleged to have bludgeoned Mr Uddin to death.
It is claimed Mr Syeedy and Mr Kadir hated the imam's form of Islam.
Jurors were shown a photograph of Mr Syeedy and his older brother raising their index fingers - a gesture linked to the IS group - in front of a Rochdale 2 Syria poster on an aid convoy to Syria.
The prosecution alleged they were wearing patches with jihadist symbols on their jackets.
'Posing in picture'
Cross-examining Mr Syeedy, Paul Greaney QC said: "You are expressing your support at the very least for armed struggle?"
Mr Syeedy replied: "I am not, no. I am posing for a picture."
He said an alleged IS flag found at his home belonged to his elder brother who regularly drove around Rochdale with it attached to his car.
Mr Syeedy said the flag and the patches were symbols of Islam.
Mr Syeedy was in Syria when aid volunteer Alan Henning was kidnapped.
He has said he was "disgusted" IS killed Mr Henning.
He had met Mr Henning at charity events and said he was "really close" to his brother.
Asked by Mr Greaney if he knew about Mr Henning's kidnap while in Syria, Mr Syeedy replied: "I think I did hear about him being kidnapped when we came back."
The case continues.