Jalal Uddin: Imam murder accused 'friendly' with IS victim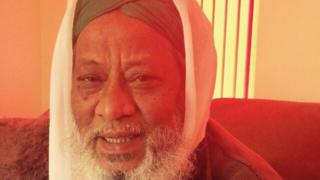 A man accused of murdering an imam was "friendly" with a man beheaded by so-called Islamic State, a jury heard.
Mohammad Hussain Syeedy, who denies murdering Jalal Uddin in Rochdale, told Manchester Crown Court he knew aid worker Alan Henning, who died in Syria.
Mr Syeedy, 21, of Ramsay Street, Rochdale, said he was "disgusted" at Mr Henning's killing by the terror group.
The Crown claims he played a key role in helping Mohammed Abdul Kadir, 24, bludgeon to death 71-year-old Mr Uddin.
Mr Syeedy said his older brother had been "really close" to Mr Henning, a Salford taxi driver who was killed in December 2013, and travelled as part of the Rochdale Aid 4 Syria convoy with him.
He had also met Mr Henning, nicknamed Gadget, at charity events and "felt disgusted that Isis [IS] had done such an act to this person", the jury heard.
"Gadget is not a Muslim. He was trying to help the people of Syria and he unfortunately was killed by Isis members", he said.
The prosecution alleges Mr Syeedy and Mr Kadir supported the terror group and developed a hatred of the victim, believing him to be performing "black magic".
Three days after the killing on 18 February this year, Mr Kadir, of Chamber Road, Oldham, fled abroad and has not been traced.
Mr Syeedy denied images found at his home showing him raising index finger salutes indicated allegiance to IS, saying they were simply a testament to his faith.
After jurors were shown a photograph of Mr Henning making a similar gesture, Mr Syeedy said: "If Alan Henning is raising the index finger as a sign of allegiance to Isis, I don't think Isis would have killed him."
The trial continues.