Rio 2016: Car sales manager congratulated in Jason Kenny Twitter mix-up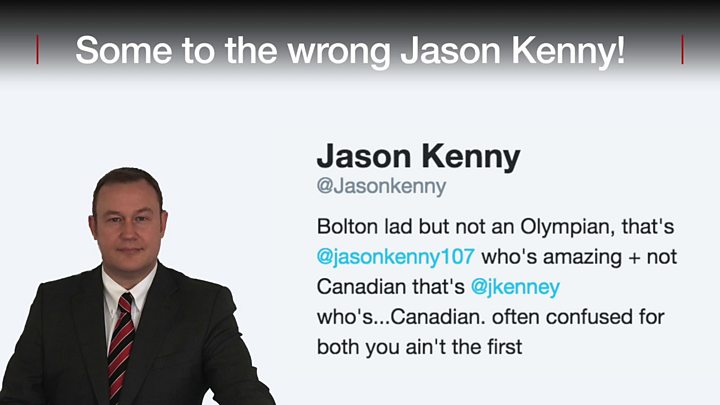 A car salesman has received a flood of congratulatory tweets after he was mistaken for an Olympic gold medallist.
Jason Kenny, 46, has been getting more than 50 messages a day on Twitter from fans of his namesake who has won three gold medals in Rio.
The father-of-one, who like the Olympian is originally from Farnworth, said it was an "absolute pleasure" to get the cyclist's tweets.
"I reply and say thank you but I am not in Rio", he told the Bolton News.
The Peugeot car sales manager, who lives in Adlington, said it was no trouble for him and "because he's such a nice guy, they are always very nice messages".
'Often confused'
Mr Kenny has gone to considerable efforts in his Twitter biography to differentiate himself from the star.
It reads: "Bolton lad but not an Olympian, that's @jasonkenny107 who's amazing + not Canadian that's @jkenney who's...Canadian. Often confused for both you ain't the first."
Cyclist Jason Kenny equalled Sir Chris Hoy's British record of winning six Olympic gold medals on a sensational night in Rio on Tuesday.
Mr Kenny then woke up to a string of tweets praising the 28-year-old Olympian for his success.
He said it has happened for years, starting during the Beijing games, continuing in London and now Rio.
"I usually just re-tweet them or sometimes I reply", he said.
People "usually apologise" when they realise their mistake, he said, "but they don't need to - it's easily done!"
A keen cyclist himself, Mr Kenny remembers getting a "good luck" tweet from the Olympian in 2012 when he messaged him about a bike challenge he was completing early one Sunday morning.
He said the sportsman "is doing fantastically" in his career, adding: "If he does not become Sir Jason Kenny, then there is something wrong."