Altrincham £16,000 gateway sign 'has spelling mistake'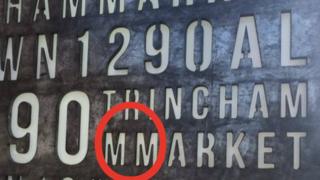 A "spelling mistake" has been spotted on a £16,000 art installation in Altrincham.
The 13ft (4m) Welcome to Altrincham metal slab has been erected on Stamford New Road, outside the transport interchange.
There appears to be a spare "M" after the word Altrincham and before Market on part of the sign.
Trafford Council said "the issues identified on the marker" would be rectified.
A statement said the sign was erected following a wide public consultation.
The structure cost £15,232 plus installation costs of £790, the council added.