First Wigan Pride festival inspired by Sir Ian McKellan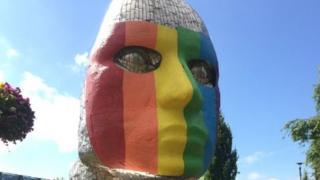 Hundreds of people have attended Wigan's first ever Pride festival, which was inspired by actor Sir Ian McKellan, who grew up in the town.
He returned to be given a star on Wigan's walk of fame and spoke to members of Lesbian Gay Bisexual and Transgender (LGBT) group, BYOU.
The group said he encouraged them to seek funding from the council and businesses to hold the event.
The festival has adopted the town's original motto, Progress with Unity.
Zak Bretherton, BYOU founder said: "Sir Ian was one of the biggest stars to come out of Wigan and we met him and he was so open about his sexuality, even though he wasn't there to talk about sexuality.
"We had asked the question why don't we have a Pride festival in Wigan and so we decided to approach the council and get sponsors."
Mr Bretheron added: "Growing up, I remember watching a documentary...of a social experiment in Wigan. It showed two male actors holding hands with hidden cameras and the response from the public was disappointing. I knew I wanted to change things."
He said he was impressed by the turnout: "It is really important to show the development in the borough. We're part of the community and this brings the whole community together.
"I'm proud of Wigan and it's not the Wigan that I saw back in the documentary."
The festival included live entertainment, music and comedy.
Donna Hall, Chief Excutive of Wigan Council said: "It is embarrassing really that we haven't held a [Pride event] before now in the town. This was a group of young people who came to us and wanted to hold the event.
"They did all the work really. We provided some funds but they've raised sponsorship. Sir Ian McKellan was bowled over by their enthusiasm and was really supportive.
"We really feel people do still face discrimination in society and we want to celebrate our diversity in Wigan."