Crocodile (stuffed) found in Greater Manchester suburb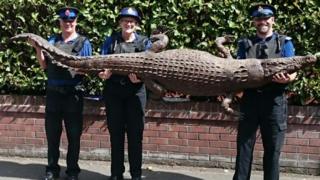 Three police community support officers were in for a shock while on patrol in a leafy Greater Manchester suburb - an old man carrying a giant crocodile.
When the dumbfounded PCSOs asked what was going on, the octogenarian replied: "I couldn't fit it in the car."
The man went on to say he was helping clear the house of a late relative who had collected stuffed animals.
An Altrincham Police spokeswoman said the reptile in question dated back to Kuala Lumpur, Malaysia, in the 1900s.
While the crocodile clearly was not going anywhere fast, the PCSOs were certainly pretty snappy when it came to posing for a picture.
And there were no crocodile tears for the animal's owner either, as they helped him on his way down Navigation Road.
The three officers are bracing themselves for a host of Crocodile Dundee jokes down the station after breaking the cardinal rule of "never smile at a crocodile".