Three arrested over Chorlton puppy invite attempted abduction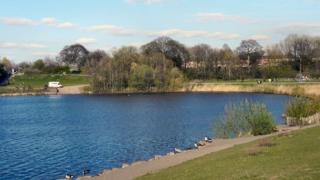 A woman and two men have been arrested on suspicion of attempting to abduct a child at a nature reserve.
An eight-year-old boy was with friends at Chorlton Waterpark on Maitland Avenue, Manchester at about 17:45 BST on Monday when he was called over to a car and invited to see some puppies.
There was an attempt to "grab" and drag him into the back seat but the boy fought back and ran off, police said.
The 46-year-old woman and two men, aged 40 and 44, have been bailed.
Det Insp Gary Smith said Greater Manchester Police was taking the incident "extremely seriously".
Anyone with information is urged to contact police or Crimestoppers.