Chester Roman excavation row prompts thousands to sign petition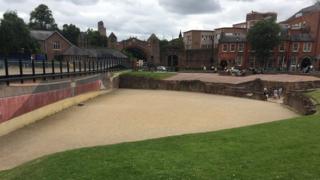 A row has broken out over whether to excavate Roman remains at the expense of an 18th Century listed building.
More than 5,000 people have signed a petition calling for Chester's Roman amphitheatre to be fully excavated.
But Cheshire West and Chester Council, which owns Dee House, wants to redevelop the grade II listed building that sits on much of the site.
Historic England said the unexcavated Roman site should stay as it is to avoid further damage.
The group looks after the site on behalf of the government.
Local businessman Adam Dandy, who started the petition, said the amphitheatre site has the potential to be "the jewel in Chester's crown".
'Smidgin of Roman stone'
"To see it covered up for the next 150 years is absolutely ridiculous," he said.
"It goes against the grain of showing off our heritage and representing the local businesses and local jobs that would benefit from such a fantastic visitors' attraction."
But some heritage groups have warned further excavation may damage the buried remains.
Dean Paton, of local group Big Heritage, said: "What you'd do is effectively destroy hundreds of years of post-Roman archaeology to try and find a smidgin of Roman stone, and obliterate everything else."
Cheshire West and Chester Council archaeologist Mark Leah, said: "It may very well be that if we leave [the remains] in situ for future generations, we'll be able to learn much more as techniques advance in future years."
'Significant disrepair'
Up to 80% of the 2,000-year-old site was originally uncovered in the 1960s, with the remainder lying unexcavated behind a brick wall.
Most of the unexcavated portion is covered by Dee House, which has been empty since 1993 and is said to be in a "significant state of disrepair".
Last month, Councillor Louise Gittins said it was "a building of national importance in its own right" and called for it be sold to developers on a 150-year lease.
The three-storey building, built in about 1730, was originally a town house for the mayor of Chester, before it became a convent school and finally converted into offices.
A final decision on the site will be made after an official review is completed.