William Lound killing: Mother does not blame man jailed for son's murder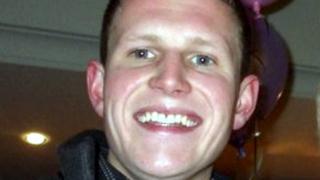 A grieving mother said she does not blame the man who stabbed her 30-year-old son in a "transphobic and homophobic" murder.
Maureen Lound, from Birkdale, Southport, said she "blamed the system" that allowed her son William Lound to be attacked in February.
Killer Lee Arnold, 37 was placed into the community despite telling doctors he could not cope, the court heard.
He has been sentenced to a minimum of 23 years and four months.
Arnold, who has paranoid schizophrenia, pleaded guilty at Manchester Minshull Street Crown Court.
'Abnormality of mind'
The 37-year-old was released from Prestwich Hospital in January last year despite telling doctors he was "too institutionalised" to leave, the court heard.
Mo Lound said she had lost her "kind hearted, wonderful son" who was enjoying student life.
She said she blamed the system as Arnold "should not have been roaming the streets of Greater Manchester without supervision".
She called for further investment in mental health services, adding: "I believe people with mental health issues should be cared for in the community, but sadly without the resources to do it properly a minority will present a danger."
Judge Potter paid tribute to the "courage and bravery" Ms Lound had shown, adding, "I admire her strength and fortitude with moving forward with her life despite what she has had to bear.
"It takes a remarkable and especially courageous person who says that she bears no malice to the person who killed her son."
Passing sentence, Judge John Potter said he hoped the authorities would carefully consider criticism of the mental health care he received.
On 8 February, Arnold strangled Mr Lound and then stabbed him six times at halls of residence in Bramall Court in Cannon Street.
The judge said he was the victim of a "brutal, premeditated, sustained attack".
Mr Lound was gay and occasionally cross-dressed and Arnold considered his victim to be "a weirdo", the prosecution said.
The 30-year-old had asked Arnold: "Why are you doing this? Why me?"
Arnold wrote on his bedroom wall after the killing: "I always win."
The next day he handed himself into police and told officers he feared he would do the same to someone else.
His defence barrister told the court it was his "abnormality of mind" which had caused him to kill, not Mr Lound's sexuality.
But the judge said he was satisfied Mr Lound was "murdered because of his sexual orientation".
He described it as a "transphobic and homophobic murder".
In a second blow for the family, Mr Lound's sister Virginia was found dead at a corner shop in Southport in June.
Ms Lound told the court there was "no doubt" her daughter ended her life because of what had happened to her brother.
She said: "[My children's] young lives were cut short by the actions of a man who should have received the help he so desperately needed before he went on to wreak such devastation."