Boy, eight, 'grabbed' in Manchester puppy invite ploy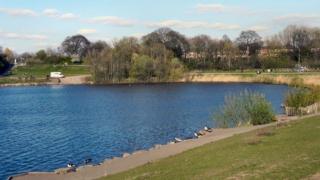 Attempts were made to drag a boy into a car after he was invited to see some puppies in Manchester, child abduction police have said.
The boy, eight, was playing at Chorlton Water Park, Maitland Avenue on Monday evening when he was called over to the grey Toyota 4x4, police said.
A woman sitting in the back asked if he wanted to see the puppies before trying to drag him into the vehicle.
He managed to struggle free with the help of his friends and ran away.
Police said two men were sitting in the front of the vehicle, one of whom was speaking on a phone.
The white woman, sitting in the back, was wearing a bobble hat and sunglasses, officers said.