Child photographed in armlock on train to Manchester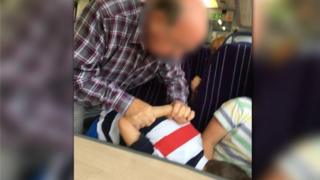 Photographs have emerged purportedly showing a man putting a young boy in an armlock on a train to Manchester.
The incident on a Clitheroe to Manchester Victoria service on Friday was reportedly snapped by another child travelling with the youngster.
A witness told the Manchester Evening News the man acted after the "cocky" boy would not take his feet off a seat.
British Transport Police are investigating and appealed for witnesses to come forward.
No arrests have been made.
"Hopefully the public can come forward with some information."
Northern Rail confirmed the children were travelling unaccompanied and the incident was not witnessed by a member of their staff.
A spokesman confirmed the boys left Manchester's Victoria station without talking to anyone.