Salford head teacher suspended in school 'Sats' probe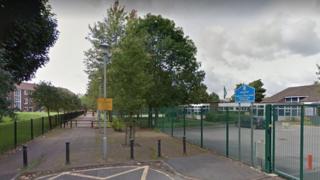 A head teacher has been suspended over allegations of "maladministration" thought to be in relation to a primary school's year 6 Sats results.
The Department for Education (DfE) confirmed an investigation is under way at the Cathedral School of St Peter and St John RC Primary in Salford.
The Standards and Testing Agency is looking at the accuracy of the school's national curriculum test results.
The head, Diane Hanley, has temporarily stepped down, the BBC understands.
A spokesman for Salford City Council said: "It is normal procedure during such investigations for staff possibly implicated to remain off site while these investigations are completed."
All year 2 and year 6 pupils sit national curriculum tests, known as Sats, in reading, maths and spelling, punctuation and grammar.
Year 6 pupils will not be able to get their results until the investigation is concluded, the BBC has learned.
A DfE spokesman confirmed it had received an allegation of maladministration at the school.
"As the investigation is ongoing, we cannot provide any more information at this stage".