Six-foot python dumped in a Manchester city centre bin rehomed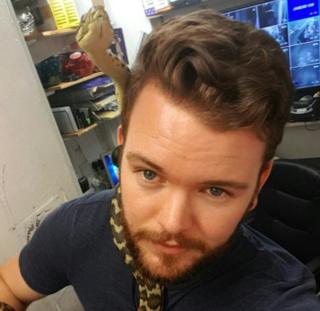 A six foot-long (1.8m) snake has been found a new home after being dumped in a bin in Manchester city centre.
Staff from Kiki Bar in Canal Street discovered the Australian carpet python coiled up inside a plastic box in a bin bag early on Sunday morning.
CCTV camera footage suggested the reptile may have been dumped by a man at about 14:00 BST on Saturday.
The RSPCA has launched an appeal to trace the owner of the non-venomous snake.
'Not a biter'
Bar manager Adam Edwards, 27, said: "The whole thing was bizarre. The staff who found it thought it was dead because it was coiled up so tight in a plastic box.
"Luckily we have a doorman who keeps snakes and he was able to identify what it was straight away, so we knew it wasn't a biter.
"He checked the snake over and could tell it had been looked after. There was a label on the box saying it had only been bought from a pet shop a month ago.
"It loved being handled. It's sad it had been dumped but it made for an interesting night for us in the bar."
Mr Edwards said the snake had been rehomed by a friend of the bar staff.
---
Australian carpet python (Morelia spilota)
The non-venomous python's thick body has patterns which are blotchy yellow and black
They can grow to reach lengths of up to 3.5 metres (11.4ft)
The snakes are usually active at night and spend most of the day resting
Carpet pythons normally feed after dark. They primarily eat mammals and birds
They are excellent rat catchers
---