Manchester Town Hall needs £250m for urgent repairs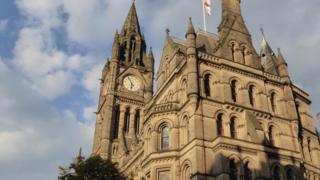 Repairs costing up to £250m are needed to fix Manchester's crumbling 19th Century town hall, a report has found.
More than 54,000 parts of the neo-Gothic building need attention, with 40% requiring "immediate repair or replacement".
The internal review by Manchester City Council warned the property was "seriously showing its age".
The council's deputy leader said if no action is taken the building "would have to close" which was "unthinkable".
Overall, many elements were "reaching the end of their natural life spans", the report said.
'Icon of Manchester'
The stonework, windows and roof were found to be "deteriorating" and the electrics, heating, plumbing, ventilation and lift installations are in "poor condition" and replacing them would "involve significant building works".
The report does not identify how renovations would be funded but it will be considered alongside the authority's budget for 2017-20.
A council spokesman said: "It's a one-off capital cost which would be funded mostly through sensible long-term borrowing at low rates so despite the large amount of money involved it would not have a significant impact on day-to-day service budgets.
"It will also unlock longer term savings - for example by allowing us to move more staff into the Town Hall from offices elsewhere in the city and improving the energy efficiency of the building - and help us bring in more revenue to support services.
"The benefits of this one-off spending will be felt for years to come and in the long-term we believe it will pay for itself through increased income and reduced running costs."
If nothing is done, the 40% of the building needing attention will increase to 85% within five years, the report warned.
Deputy council leader Bernard Priest, described the building as "an icon of Manchester, conceived by our Victorian forebears as a proud symbol of the city's confidence and cherished by Mancunians ever since".
He said: "If we don't act we will have to stop using, and start mothballing, significant parts of this much-loved building sooner rather than later. Ultimately it would have to close altogether.
"Such a situation would be unthinkable."
However, the building is underused with only 250 council staff based there from August.
The reported noted Albert Square, in front of the town hall, has structural issues, poor drainage and a lack of utilities needed to support public events.
The council is considering carrying out £250m of essential works or potentially spending £330m to create commercial opportunities such as a small boutique hotel and gym.
History of Manchester town hall
Designed by architect Alfred Waterhouse, who also designed Manchester University's historic buildings
It was constructed between 1868-77 at a cost of around £1m
It has been used as a backdrop for films including The Iron Lady when it doubled as the Houses of Parliament
It is Grade I listed building, meaning it is of exceptional architectural interest and national importance
A progress report will be considered by the council on 21 July.
The programme, cost and timings of repairs will not be known until further examination of options has been completed.
A further report is to be presented to the council's executive in the autumn and it will be considered alongside its 2017-20 budget.