Roof ripped off bus in Middleton railway bridge smash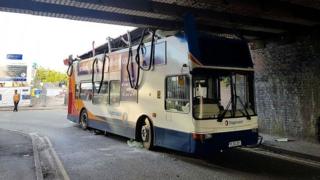 The roof of a double-decker bus was ripped off when it crashed into a railway bridge.
The Stagecoach bus was returning to depot when it collided with the bridge in Joshua Lane, Middleton, Greater Manchester, at about 19:00 BST on Tuesday.
No passengers on board and the driver was uninjured.
Greater Manchester Police tweeted a picture with the caption: "Big recover bill and 1 less bus on the roads".
The force later tweeted: "Luckily no one was on the top deck and no one hurt."
Stagecoach confirmed the bus was out of service and the company was assisting police with inquiries.
It is also carrying out its own investigation.
In September, 17 people were injured when a First Bus double-decker hit a railway bridge in nearby Rochdale.