Greater Manchester 2040 transport vision unveiled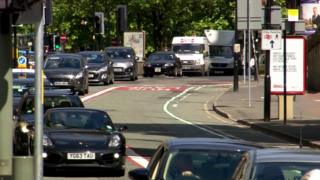 Plans to keep Manchester city region on the move for the next 25 years have been unveiled by Transport for Greater Manchester (TfGM).
Its Transport 2040 Strategy, out for consultation, calls for a "cleaner, greener, more prosperous city".
Its vision for a "flexible, integrated transport system" includes extending Metrolink, city centre train tunnels and Oyster Card-type ticketing.
It also aims to cut short car trips and make walking and cycling safer.
The strategy is based on the region's population rising to three million, with a possible growth of 350,000 jobs, a need for 200,000 extra homes and at least 800,000 journeys a day.
Integrated transport
It looks at how to integrate transport from the arrival of the HS2 train network in 2030 to the greater use waterways for freight as well as the the region's connections to Manchester Airport.
Other measures in the strategy include:
Better rapid transport links including tram-trains and rapid bus services serving key centres and Manchester Airport
Construction of rail tunnels beneath the city centre
New Metrolink routes to Trafford Park and the AJ Bell stadium in Salford
Faster rail journeys and more local services
More cycling and pedestrian routes across town centres
Redevelopment of Piccadilly Station to include HS2, Northern Powerhouse Rail and local rail lines
Better traffic flow on key routes trying to reduce bottlenecks and rush hour demand.
One of its key objectives is to cut car use for journeys of under 1.2 miles (2km) - 38% are made by car.
Interim Mayor Tony Lloyd said: "This is about creating a world-class transport system for the future that will help us realise the ambitions of this great city region of ours."
He added: "I'd like to encourage as many people as possible to have their say on these proposals and help to shape the future of transport in our region."
The strategy is now out for 12-week public consultation until 26 September.