Man and woman jailed for Leigh shotguns burglary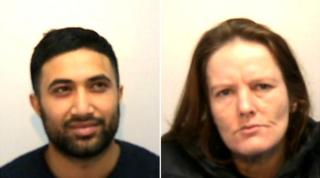 A man and woman who broke into a 76-year-old man's home and stole eight shotguns have been jailed.
Amanda Morris and Muhammed Ahmed burgled the flat in Leigh, Greater Manchester, where the weapons were legally held by the victim.
Morris had struck up a friendship with the man, Liverpool Crown Court heard.
Morris, 45, of Linden Grove, Leigh, and Ahmed, 25, of Bath Street, Southport, were jailed for five years and 21 months respectively.
The victim had been a registered firearms licence holder since 1991, and had amassed a "significant collection", police said.
Morris, who was found guilty of burglary after a trial, had previously visited his home and knew where the keys to his firearms cabinets were kept.
Ahmed, who admitted burglary, drove from Liverpool to Leigh to take part in the break-in, which the pair carried out while the victim was at a hospital appointment.
Det Sgt Lee Shaw, of Greater Manchester Police, said: "While that is a despicable act in its own right, what is more worrying for the wider public is that these guns have not yet been recovered and have possibly ended up on the illegal weapons market, where they will be available to dangerous criminals."