Manchester council to invest £10m in children's services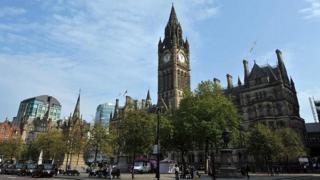 Plans to invest £10.2m in children's services staff in Manchester have been approved by the city council.
It follows a 2014 Ofsted report which found services for young people were inadequate and vulnerable children in the city were potentially at risk.
The money from council reserves will pay for 132 members of staff over the next five years.
The council said it hoped to cut each social worker's caseload from 30 in 2014 to an average of 18.
'Manageable caseloads'
The British Association of Social Workers (BASW) said it welcomed the news.
BASW England manager Maris Stratulis said social workers needed "manageable caseloads" to do their jobs efficiently and to a high standard.
"Investment in leadership and direct practitioners will result in better outcomes for children and families," she added.
The council's executive member for children's services, Sheila Newman, said the authority had already made "significant improvements" following a previous £14m funding boost.
She said the extra £10m investment was "essential" to make "to improve the quality of social work".
She said: "The main allocation of the money will be used to reduce caseloads in line with other successful cities like Leeds."
Manchester City Council made savings of £13.8m earlier this year.
The investment is expected to be ratified by the full council on 13 July.