Stockport train station sexual assault: Boy 'around 11' wanted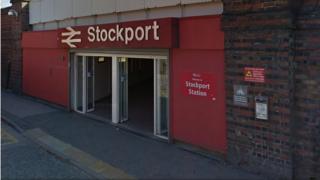 A boy believed to be aged about 11 is wanted by police over a sexual assault at a railway station.
British Transport Police said a woman was touched inappropriately by a young boy at Stockport station on Friday at about 15:45 BST.
He walked off laughing before returning and spitting at staff who had asked him to leave the station, police said.
The boy is described as white and was wearing a black hooded bubble jacket, trousers and trainers.
Latest news and sport updates from across Greater Manchester
PC Rebecca Swift said: "The victim was waiting with her boyfriend in the booking hall of the station when she was inappropriately touched by a young boy who then left the station laughing.
"He returned a short while later and began messing around by the ticket barriers at the Edgeley side of the station. Station staff asked him to leave and he responded by spitting at them."
Police said the victim was left "feeling humiliated and shocked" by the incident.
Officers are working on identifying the boy via a sample of his saliva.
They have urged anyone who witnessed the incident to contact them.