Man jailed over Rochdale guns and cannabis farm find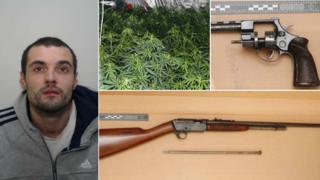 A man who kept a hoard of illegal firearms at his cannabis farm in Rochdale has been jailed.
Five weapons and 85 cannabis plants were found at a rented property in Chatsworth Street in December.
Christopher Bryson, 28, was jailed for seven years and eight months at Minshull Street Crown Court after admitting production of cannabis and possession of several firearms.
Det Con Russell Clarke said Bryson had "substantial and lethal arsenal".
Deadly collection
He said it was the most he had come across in the possession of a single offender.
An energy company's warrant officer and a debt collector called police after noticing a strong smell of cannabis and seeing a piece of ammunition on the floor of the property.
Police found a pistol, a sawn-off shotgun, a calibre camouflaged rifle, a pump action rifle and an air pistol that were loaded.
They also discovered a cannabis farm with a yield of up to 22lb (10kg).
Det Con Clarke said Bryson had "amassed a deadly collection".