Bolton church deacon jailed for child sex offences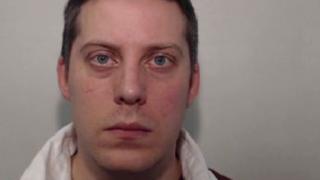 A church deacon who groomed and sexually abused two teenage girls after befriending their families has been jailed for eight years.
Michael Higson, from Bolton, carried out the abuse from 2009 to 2016 while working as a youth leader and deacon of West Houghton Pentecostal Church.
His crimes came to light after a family member of one of his victims saw a text from him, Bolton Crown Court heard.
Higson, 34, pleaded guilty to eight counts of sexual activity with a child.
'Manipulated his position'
One of his victims was 13 when he began to groom her, suggesting sexual behaviour to her online, police said.
He then began having physical contact with her, which lasted for a number of years before the victim ended it.
Higson, of Cairngorm Drive, later sexually exploited a 14-year-old girl but he was reported after the family member saw a text message from him on the victim's phone.
In February, the police were called in and Higson was arrested and charged.
Det Con May Preston said: "Higson manipulated his position in society to gain the trust of these girls and their parents.
"Once he had accomplished that, he then set out to groom these young girls and sexually exploit them."