Mancunian Way reopens after 10 months of repairs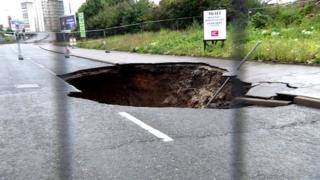 The Mancunian Way, beset by problems after the appearance of two large holes, has reopened after 10 months.
The key commuter route in Manchester was shut in both directions on Monday and Tuesday for a full inspection and maintenance, prompting complaints from businesses and commuters.
Manchester City Council planned the work during the week to avoid affecting last weekend's Parklife music festival.
Holes first appeared in August 2015, forcing the road's partial closure.
Heavy rainfall caused the first of the holes - which measured 15ft (4.5m) in diameter - to open up, with the second appearing a month later.
A contraflow arrangement was put in place while United Utilities worked on what it described as the biggest emergency sewer repair it has ever undertaken.
It excavated 10,400 tonnes of sandstone to lay 400 metres of pipework and pumped the equivalent of 3,992 Olympic-sized swimming pools of sewage past the roadworks.
The operation cost £6m.