PCSO Gary Etchells made MBE after surviving Stalybridge stabbing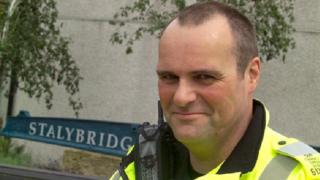 A police community support officer who was stabbed in the neck while helping with an eviction has been made an MBE in the Queens' Birthday Honours list.
PCSO Gary Etchells was attacked by a man armed with a carving knife at a flat in Stalybridge, Greater Manchester, in 2006.
It pierced his carotid artery and permanently damaged a vocal chord.
The 57-year-old, from Hollingworth, has been honoured for his services to the Greater Manchester community.
The father-of-three said: "I've had lots of highs and some lows in my job over the last 13 years but I wouldn't change a thing.
"I love helping people and being out and about in the community.
"I am absolutely honoured to receive an MBE and I'm so shocked that I've been chosen. It's not really sunk in."
Mr Etchells will attend a presentation ceremony at Buckingham Palace later this year.