Boy's smeared make-up face goes viral after Mum shares it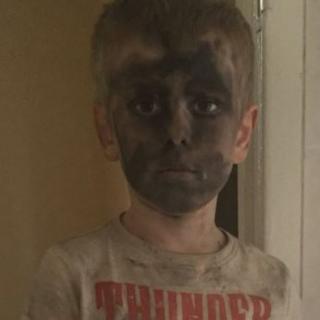 A woman who shared a picture of her child covered in her make-up has sparked similar posts from other sympathetic parents.
Sarah Chrisp said when she saw her four-year-old son's face "it made me jump as I was not expecting it."
She posted it on Facebook to amuse her make-up artist friends but was "amazed" when it went viral.
Ms Chrisp, from Macclesfield, Cheshire, said: "Once I realised what he'd done, I was pretty sad."
He had used three eye shadow palettes, smearing them over his face, arms and t-shirt while his mum was in the shower.
Her witty post took the form of a mock review and said: "Longevity: I'm very impressed.
"It took a good twenty minutes of thorough washing in the shower with a mild soap to get most of it off."
'Damian loves make-up'
Hundreds of other parents shared their images of children wearing make-up they had taken from their parents.
Ms Chrisp, who works in a comic shop and part-time as a make-up artist, told the BBC her son Damian "didn't have any explanation for what he had done."
"I just posted it because I thought it was funny and my way of dealing with it was to laugh."
She did not get any sleep on Thursday night because her phone was beeping every few seconds with messages.
One of the funniest posts in the thread, she said, was a little boy who had expertly applied eyeliner.
"Damian loves make-up and I have let him do my make-up in the past," she added.
She said she thinks he will do it again and has decided to buy him his own cosmetics to experiment with.