Rochdale man arrested under new legal high legislation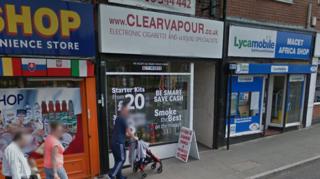 One of the country's largest police forces has made its first arrest over legal highs since the substances were outlawed.
Greater Manchester Police said a man, 23, from Rochdale, is being held on suspicion of supplying a controlled drug under the Psychoactive Substances Act 2016.
Nine people fell ill in Rochdale after taking legal highs on Friday.
Two men arrested on Wednesday over the incident have been bailed.
Greater Manchester Police said the owner and a worker at Clear Vapour, Oldham Road, Rochdale, have been released while police analyse products.
The shop has been closed but it is not clear if it is permanently shut, said police.
From midnight it has been illegal to produce, supply or import synthetic substances that have the same or similar effects to some class A drugs.
The Psychoactive Substances Act 2016 also gives police greater powers and sentences of up to the seven years for offenders.
So-called legal highs are psychoactive drugs that contain various chemical ingredients, some of which are illegal while others are not. They produce similar effects to illegal drugs like cocaine, cannabis and ecstasy.