Metrolink services suspended as car gets stuck on line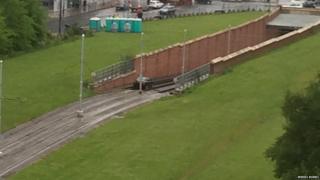 Trams were halted in Greater Manchester when a car got stuck on tracks and another collided with a tram.
Services between Manchester Piccadilly and Ashton-Under-Lyne were suspended when a car drove on to the tracks at New Islington.
It caused problems for passengers travelling to the Bruce Springsteen concert at Etihad Stadium.
A crash involving a car and tram in Droylsden caused the suspension of trams to and from Ashton-under-Lyne.