Greater Manchester bus drivers to stage one-day strike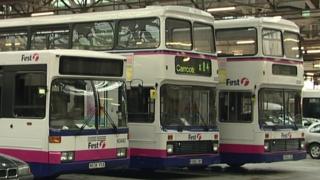 Hundreds of bus drivers in parts of Greater Manchester are to stage a one-day strike over pay and conditions.
Members of the Unite union working for First Manchester Ltd will walk out on Tuesday, claiming "serious breaches" of long-standing industrial agreements.
Neil Clarke from the union said it was "with a heavy heart" that they had been "left with no option but to strike".
A statement from First Manchester said the strike action was "unnecessary and unjustified".
"We regret any inconvenience and disruption caused to passengers, but they cannot and will not sit by and let their hard-fought for agreements be trashed," Mr Clarke said.
"All the issues in this dispute could easily be resolved by the senior management and at no financial cost to the business.
"This is not a question of ability, but of a willingness to honour commitments and agreements that the company have signed up to."
First Manchester's operations director Adrian Worsfold said he was "very disappointed" about the industrial action.
He said he had asked the union to enter into talks and to involve the conciliation service ACAS.
The company said Manchester, Oldham, Rochdale, Salford and Trafford would be affected while drivers at their Bolton, Bury, Rusholme and Tameside depots will be working as usual.