Aldi suspected carjacking: Gorton man, 24, arrested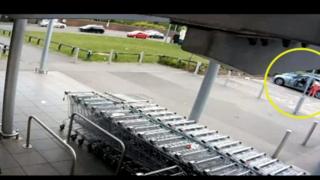 A man has been arrested after an alleged carjacking and attempted abduction at a supermarket car park.
Police received reports that a man had forced his way into a car at the Aldi store on Garrett Way in Gorton, Manchester at 19:40 BST on Monday.
The owner intervened when he saw the vehicle being driven away with his three-year-old son inside.
A man, 24, from Gorton, was arrested on suspicion of robbery and child abduction and is in police custody.
The car owner, Tahir Mehmood said he was leaving the supermarket when he saw someone in the driver's seat and his wife and other son, aged five, looking on.
As the vehicle reversed, he gave chase and jumped in the passenger seat before the alleged car thief ran off.