Stockport defection row councillor rejects resignation calls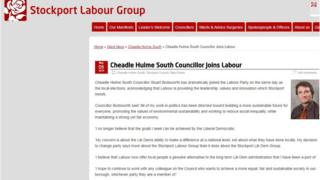 A councillor who defected from the Liberal Democrats to Labour on election night has rejected calls to resign.
Stuart Bodsworth's decision coincided with Labour overtaking the Liberal Democrats as the largest party on Stockport Council last week.
Former party colleague Mark Hunter said the "honourable course of action" would be for Mr Bodsworth to stand down and seek re-election on a Labour ticket.
Mr Bodsworth said he would "continue to represent" voters in "the same way".
A Cheadle Hulme South councillor for 13 years, he did not have to contest his seat this year because of the local authority's electoral system.
Mr Hunter said that while politicians were "entitled" to change their mind, there was a "shared sense of outrage" at Mr Bodsworth's defection "in a seat where his new party, Labour, polled precisely 7%".
"There is no legitimacy at all... Labour haven't won Stockport under their own steam or with a mandate from the electorate at large - this happened through a defection.
"Many people have said to me that the honourable course of action now would be to resign his seat and fight under his new colours and I would very much welcome that."
But Mr Bodsworth said: "I'm not going to change in any way... I will continue to represent people in the same way with the same ideals and principles."
He said he timed his announcement for the close of polls on Thursday because he "didn't want it to impact on the local elections", adding that the defeat of other Lib Dem councillors also contributed to Labour's gains.
The leader of Stockport Council's Lib Dem group Sue Derbyshire lost her seat when she was beaten by Labour's Charles Stewart, leaving the Lib Dems tied with Labour on 22 seats each until Mr Bodsworth's defection.
Labour is now the largest single party with 23 councillors while the Lib Dems have 21, the Conservatives 14 and there are five independents.
It is the first time Labour has had a councillor in Cheadle Hulme for more than 40 years.